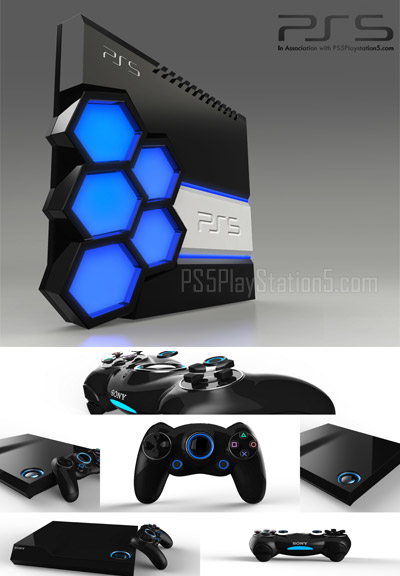 All things PS5 for serious Playstation fans. Find articles detailing the current Release Date, Concepts, Price, PS5 Specs, Games and all news relating to the PS5.

New PS5 Updates
• The PS5 is 100% Confirmed!
• Ubisoft's CEO Believes the PS5 is at Least 2 Years Away
• Could the PS5 be a Portable/Console Hybrid?
• Has the PC Already Beaten The PS5?
• Will GT Sport Run at 8K on PS5?
• PlayStation Fans Would Rather Wait For The PS5
• PS5 vs Xbox One X: How Sony Will Dominate
• Unparalleled Console Upgrades: Should We Fix What Isn't Broken?
• Where should the gaming industry put it's focus? (Vote!)
• The 4K Obsession: The Industry Needs to Change Focus
• How PS5 Will do What PS4 Pro Won't
• Michael Pachter: PS5 is Waiting on Scorpio
• Top 9 Features on the PS5
• GTA 6 Coming to PS5!
• PS5 Will Be Backwards Compatible
• PS5 Design Revealed
• Sony Will Win The VR War With PS5
• What PS5 features are most important to you?
• The PS5 Will Run at 8 Teraflops for 4K
• VR is The Future (Sorry 4K TVs)
• PS4 Update Delays PS5
• PS5 to Counter Project Scorpio
• Call of Destiny? The Future of FPS Games
• Sony Unsure About PS5's Future?
• PS5 Coming Sooner Than Expected!
• Are Single-Player Games Dying?
• PS5 Rolling Out Early, VR is the Missing Link?
PS5 Release Date:
We all know it's coming, but no one seems to know exactly when. We have done the hard work for you and figured it out. Sony is a creature of habit fellow gamers, as are we all. All it takes is some mathematics and an ear to the ground of the gaming industry to start piecing together this crucial part of the puzzle. Join us on our PS5 release date page to see what these factors have revealed thus far. Check back often because we are constantly updating the page with our latest findings!
Specs: A Glimpse under the Hood
You thought trying to predict the PS5 release date was hard? We're tackling something much more difficult next. As we all know, technology evolves and changes in limitless ways with each passing year. Trying to nail down the exact path it will take is like trying to find a grain of salt on a beach. That being said, there are patterns, predictions, and signs that we can use to illuminate the path. Want to see what the future holds? It's all on our specs page ready for you to see.
Price: How High Can it Go?
The Price of a console is always a touchy subject. When it comes to the PS5, the latest rumors are showing that the console may come in two versions which could drastically affect the price of the system. The price of the PS4 showed that $400 is a price point that works, so it's doubtful that Sony will go any higher, if at all, with the PS5. What do you think the new system will cost? Head on over to our PS5 Price page to find out more and offer your opinion in the comments!
PS5 Design: Artist's Renditions
I am a master of words, but I harbor a deep respect for those who can bring images to life. We don't know for certain what the PS5 will look like, but that offers us the unique ability to consider a multitude of options. Will it be a box, will it be cloud-based, who knows? There are signs that point to something completely different than anything else we've seen, but that only fuels our imaginations. For the best PS5 eye candy on the internet, your one-stop location is our PS5 concept designs page.
Top PS5 Articles
Hardcore PS5 Fans
We know you are out there and we are with you! We'll update this page frequently as technology changes and grows, to give you a better idea of what to expect in the far future of the PlayStation brand. New technology is revealed on a yearly basis, and this page will represent what we feel is accurate at the current time of writing. As new technical products and advancements are always coming to light, visit this page often to stay in the loop when it comes to PS5 news.
It's safe to say if you're looking for news you definitely came to the right place. You know we've already got you covered with up-to-date PS4 news on our sister site, PS4 Experts, and here you can expect to find the same quality articles as we turn our gaze to the future. We're still updating PS4 Experts on a daily basis, so don't forget to stop in there after you're done checking out what the far future holds!
We encourage interaction as well, so sign up for our website, comment on the articles, take a look at our social media pages, email us your information – let your voice be heard! Who knows, it could be a tip from you that makes industry breaking news. When it comes to the PlayStation 5, anything is possible! Epic gaming like no other awaits us all!