More than a few rumors in the past have started as a result of job postings. In some cases it's a company asking for work on a new title, and in other cases someone puts a sensitive bit of information on their resume or LinkedIn profile, which blows the lid off the whole thing. It looks like we have one of those situations in the form of a job posting on the official PlayStation Website.
Details on The Job Posting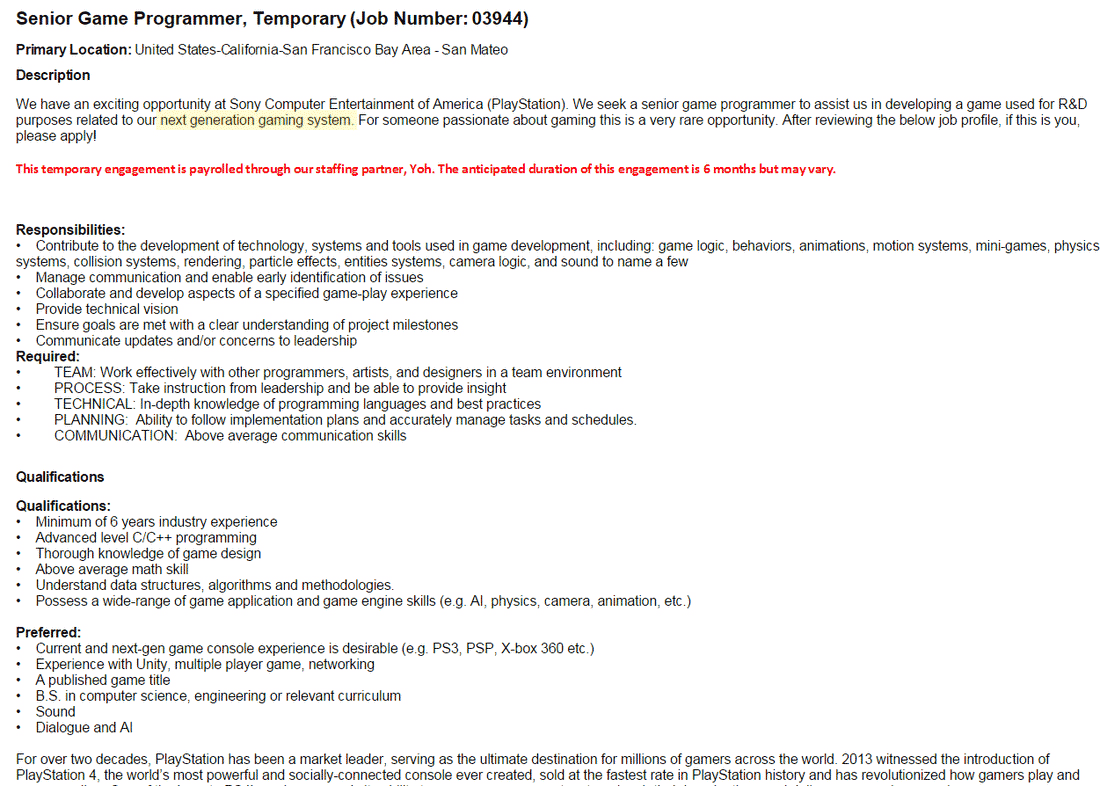 If we mosey on over to the Sony PlayStation Page, we'll see a job posting that is for a "Senior Game Programmer." Here's what the description says:
"We have an exciting opportunity at Sony Computer Entertainment of America. We seek a senior game programmer to assist us in developing a game used for R&D purposes related to our next generation gaming system. For someone passionate about gaming this is a very rare opportunity. After reviewing the below job profile, if this is for you, please apply!"
The job responsibilities also provide us with some clues:
Contribute to the architecture design and development of OS subsystems
Advanced level systems programming and debugging using C and C++
Multi-threaded programming
Whoa, if that's not a sign that Sony is pushing forward on PS5 development, I don't know what is. As we know, R&D refers to "research and development," so that's our first clue. The job responsibilities refer to subsystems of an OS, so this could be work on the PS5's interface or base operating system.
Interpreting This News
The fact that they're using a game programmer means that they are most likely developing a prototype for something that would work on the PS5. It could be that they are referring to Project Morpheus as a "next generation gaming system," but it's really more a peripheral, so I'm going to write that one off.
While PlayStation VR isn't a system, it could be used as a peripheral with the PS5, so we shouldn't rule out the possibility that this game is VR in nature. The fact of the matter though is that this is big news for the future of PlayStation. Depending on how Sony progresses, we could see more news quite soon. Perhaps we'll have concrete evidence on whether or not the PS5 will be cloud-based? This programmer could be developing an operating system that relies on a streaming service, the possibility is certainly there.
One of the theories that I've been throwing around is the concept of a unified operating system like Windows 10. It's interesting that Microsoft took this approach, and it's something that I think Sony may adopt as well. Microsoft wants Windows 10 to be the last operating system they do. They want to transform the platform into a service that is constantly updated instead of replaced.
If this job posting is indeed for an OS structure, it could be that Sony is developing an operating system that can run across multiple devices. It may be something as simple as a unified look between the console, and mobile devices. It could also signal a transformation from a hard console into a cloud-based service that offers apps instead of games specific to a console.
What do you think it means? Is this job truly for something involving the PS5, or is it something else entirely? Tell us your thoughts in the comments below and share this news with your gamer friends!