Where you can BUY the PS5
You waited patiently for years to finally get the PS5! But then for those unlucky souls who did not get a pre-order or release date order it has been extremely frustrating for so many Playstation gamers worldwide. You WILL absolutely get your chance to own a PS5 and we will help you do it. Keep checking the links below daily. We will post updates as they become available. If you do get lucky, let us know when and where in the comments below!
Updates:
PS5 Inventory is coming in across multiple retailers weekly, specifically with Playstation.com but it really depends retailer by retailer. Global Semiconductor Chip Shortages are also affecting PS5 production.
Amazon.com
Restocking Intermittently – Sells Out Fast
Selling Console, Games, Accessories
Console | Digital | Dualsense | Pulse 3D
Playstation.com
Sells Out Fast – Restocking Faster Now
Selling Console, Games, Accessories
NewEgg.com
Sells Out Fast – Restocking Intermittently
Selling Console Bundles, Games, Accessories
eBay.com
In Stock / Expensive! – Only buy from 100% Feedback sellers
Selling Console, Games, Accessories
OfferUp.com
In Stock / Expensive! – !Scammer Alert!

Only buy in person or from 100% / TruYou verified sellers
Selling Console, Games, Accessories
Walmart.com
Sells Out Fast – Restocking more than others
Selling Console, Games, Accessories
Costco.com
Physical Stores will have before Xmas (Keep calling store)
Selling One Console Bundle
BestBuy.com
Sells Out Fast – Restocking Intermittently
Selling Console, Games, Accessories
Gamestop.com
Sells Out Fast – Restocking Intermittently
Selling Console, Games, Accessories
Target.com
Sells Out Fast – Restocking Intermittently
Selling Console, Games, Accessories
SamsClub.com
Sells Out Fast- Restocking Intermittently
Selling Console, Games, Accessories
B&H Photo
Sells Out Fast – Restocking Intermittently
Selling Console, Games, Accessories
Antonline
Sells Out Fast – Restocking Intermittently
Selling Console, Games, Accessories
On the Playstation.com website console Pre-Orders were invite only. Invitations opened 9/18/2020 at 10AM PT and we confirmed that the process worked for many but not for all. The window was open until 10AM Pt on 9/19/2020. Playstation is selling Games and accessories in their website store. Burger King (1000 people) and Doritos were some of the retailers giving away the PS5 to a very small number of random winners.
Sony officially confirmed the release date and price of the PS5 during the September 16th 2020 event. The Disc version was announced as $499 and the digital version $399. The Release date was announced as November 12th, 2020 in all major regions. On 8/26/20 Playstation announced a "PS5 Pre-Order Opportunity" via registration but only limited numbers were available! Details below. Those accepted by Sony started to receive invites on 9/16/20. Sony had assured everyone that PS5 preorders won't come as a surprise and will give gamers "plenty of advance notice" BUT that did not actually happen unfortunately. Where you able to order? Have a tip!? Let us know!>
Get the latest Order updates by signing up for our PS5 Newsletter on this page. When something big changes, we will let you know. Don't be left out like thousands of gamers were when the PS4 pre orders ran out. Bookmark this page and check back daily. Interested in how PS5 shortages got so bad? Check out our full coverage on the semiconductor chip shortage.
• Don't be left behind when there is breaking PS5 news. As we predicted years ago the PS5 sold out almost immediately.
• Get updates on the most important PS5 news.
• We have a 100% ZERO spam policy.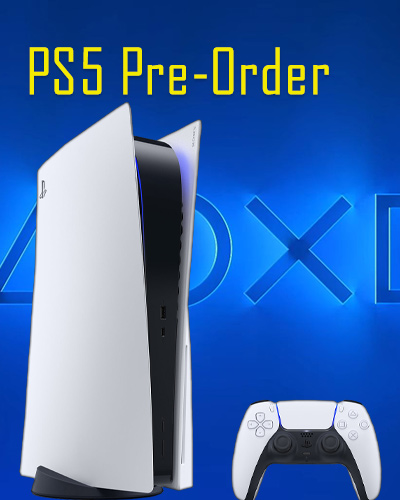 Playstation PS5 Pre-Order Special Invites
Playstation.com – On 8/26/20 Sony announced via email and on their website that you can register to pre-order the PS5 but warns there will only be a limited quantity! This pre-order registration is geared towards existing playstation users (Seems to be USA only) which will be selected by Sony based on certain criteria. From what we are seeing only very active users who purchase frequently were chosen. You will need your Playstation Online ID to register so have that ready! Also make sure all the information in your online account is up to date and accurate. You can register here via the official Playstation pre-order registration page. Do not delay, you do not want to miss this opportunity! On 9/16/20 actual invitations started going out via email. One our writers, Bradley Ramsey, received an invitation to preorder on 9/18 at 10AM PT, and we can confirm he was able to successfully order a console with accessories and games without any issue.

If you receive an invitation, follow the instructions in the email and have both your PSN login and credit card ready! The page automatically reloads and redirects you when it's your turn to order. A much smoother experience than other retailers! If you also had success with this method, let us know in the comments!

From Playstation:

"There will be a limited quantity of PS5 consoles available for pre-order, so we will be inviting some of our existing consumers to be one of the first to pre-order one from PlayStation.

Leading up to Sony's September 16th event, Bloomberg published a report claiming that Sony had to cut their PS5 production due to issues with the chips being manufactured for the system.

This led to Sony vehemently denying the allegations later that same day. A statement from Sony, via GameIndustry.biz:

"While we do not release details related to manufacturing, the information provided by Bloomberg is false. We have not changed the production number for PlayStation 5 since the start of mass production."

Pre-order reservations will be taken on a first-come-first-serve basis, so once you get an invite via email, we encourage you to follow instructions and act fast.

If you are interested in receiving an invitation, register below.

If selected, we will contact you via email with instructions and details.*"

For all the details read Sony's FAQ Page on PS5 pre-order registrations.
Were you able to pre-order the PS4? Or did you end up missing the pre order and have to wait? How many limited pre-orders do you think Sony will do this time around? Share your thoughts and comments below.
Remember this!? Don't let that be you.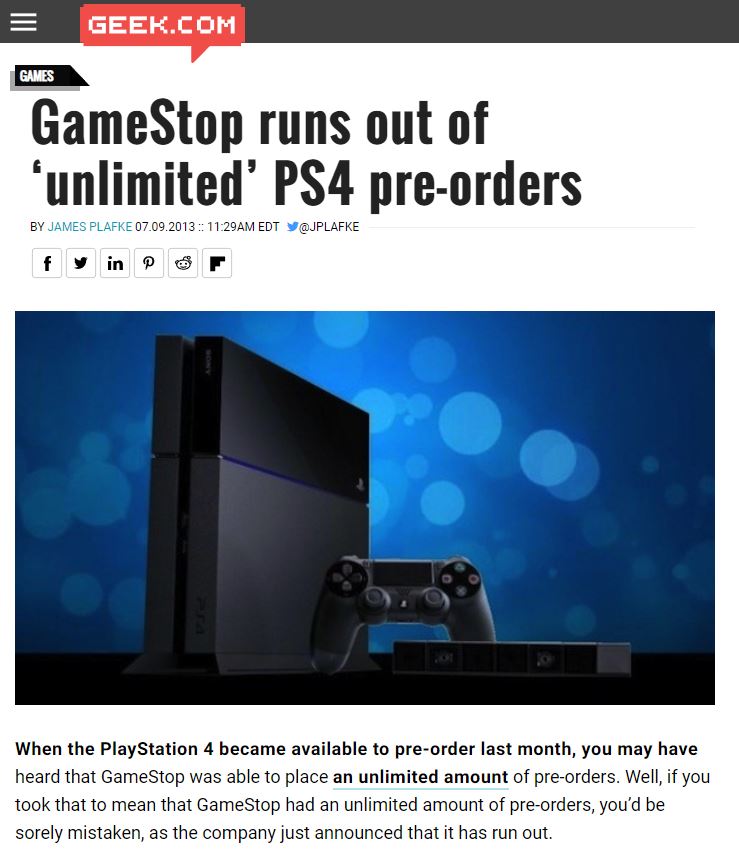 Related Articles: