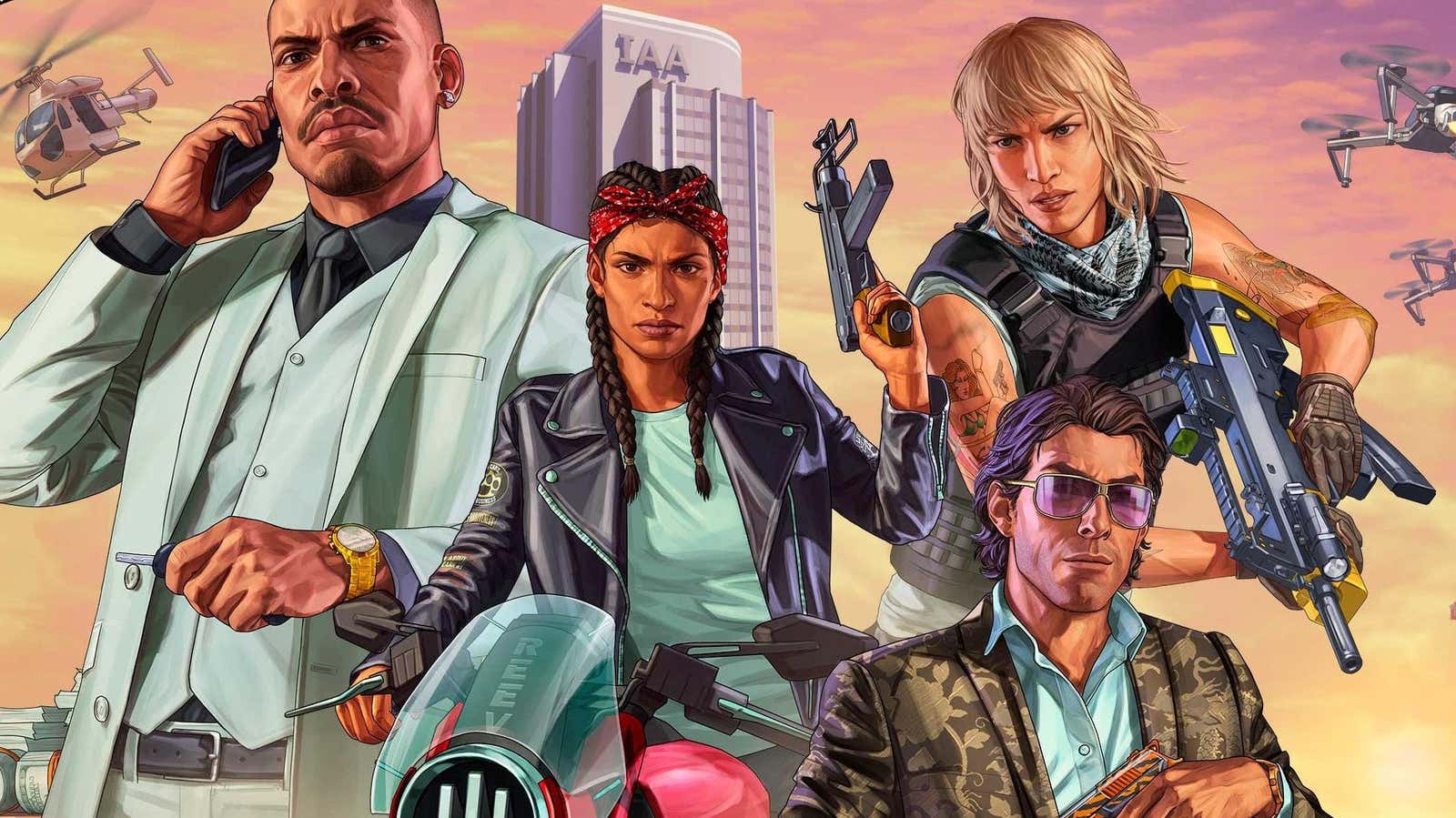 The Grand Theft Auto series has always been one that bucks cultural sensitivity and general tact in favor of bombastic characters and wanton violence. To some, it could be seen as a purposeful exaggeration, but to others it could be viewed as downright insensitive. There's a reason this series has always courted controversy, after all.
Now, a new report from Bloomberg suggests that Rockstar is taking some steps to make GTA VI more culturally sensitive, including the addition of the series first playable female protagonist. How will these changes affect the overall tone gamers have come to expect from the series? Let's dive in and find out!
Bringing Self Awareness to Grand Theft Auto VI
Rockstar as a developer has been slowly taking steps to repair their image as both a business and a game maker. They recently removed transphobic jokes from GTA V, and the company has also taken steps to narrow the gender pay gap internally.
According to the Bloomberg report, the studio has already shelved at least one game mode for GTA VI in light of recent events. The mode, which would have been a variation of the game "cops and robbers," was deemed inappropriate after the death of George Floyd in summer of 2020, so the company decided to take it out of their plans.
New information from anonymous sources claims that GTA VI will include a female protagonist as a playable character. The woman, who is Latina, will be one of two main characters that are supposedly inspired by the classic "Bonnie and Clyde" story, while taking care not to "punch down" by making jokes about marginalized groups.
This type of approach is somewhat shocking, given Rockstar's penchant for insulting just about everyone and everything in the name of satire. Issues in the studio also came to light over the years, despite GTA V being one of the most successful games of all time.
While it's easy to applaud some of these changes and additions, it does make me wonder if a softer GTA VI that's less offensive will have the same resonance with its long-time fans who have grown accustomed to a look and feel that, while questionable, defines the brand.
GTA VI Aiming For 2024, With Post-Launch Updates in Tow/h2>
Due to internal changes, the pandemic, and other factors, development has been slower than expected on GTA VI. Even so, the Bloomberg report shares new details on the setting as well, which is expected to be a fictional version of Miami, Florida.
The game was originally planned to include large portions of both North and South America, but these ambitions have been scaled back. According to sources, Rockstar plans to add additional areas and cities after the launch of the main game.
For what it's worth, this particular gamer is happy to see Rockstar taking a step back and becoming more self aware about the world as it stands today. Parody and satire are not only fine, but are essential to truly sending a message with your art. Even so, there's little value to be had in being willfully insensitive.
Grand Theft Auto VI will sell millions of copies, and sure, there will be people who decry the changes as censorship or any number of other insults, but ultimately I think this will be a positive change for a series that has more influence on popular culture than I think even the developers realize.
What do you think about these potential changes to the series? Does this make you more or less excited to play GTA VI? Stay civil, but let us know what you think in the comments below!
Article by – Bradley Ramsey
Insert date – 7/28/2022