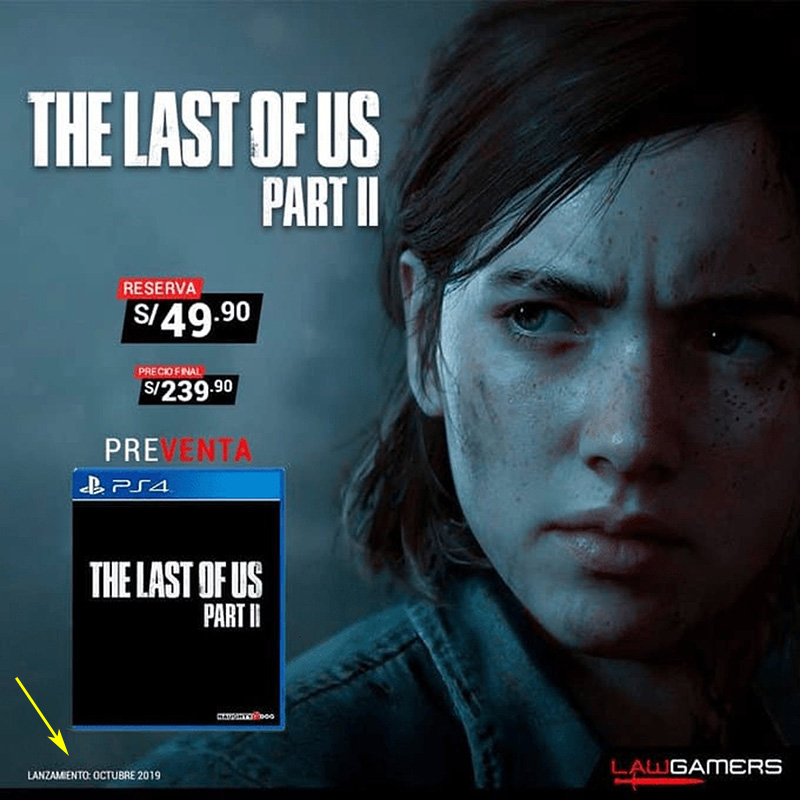 When it comes to Sony's first-party developers, Naughty Dog is among the the best. While they've been known for their work in the past on Crash Bandicoot, Jak & Daxter, and Uncharted, The Last of Us holds a special place in gamer hearts everywhere.
As a result, we've all been eagerly awaiting some kind of release date for The Last of Us: Part II. A newly leaked image points to October of 2019 as a possible answer to this burning question, but what about the rumors that Sony has shifted focus to PS5 games? Let's unpack this story and see where the bread crumb trail takes us.
The Last of Us: Part II May Release in October of 2019
The leaked image comes from a Peruvian retailer called LawGamers. The promotional image shows Ellie's face, along with cover art, price, and month of release.
As promotional art goes, it's pretty standard. Having worked in the gaming retail industry for almost a decade, though, I picked up a few things when it comes to this type of advertising.
Let's consider a few facts here:
The cover art doesn't look final, it looks like a stock photo
Promotional art like this has shown incorrect dates in the past (when games were pushed back prior to launch)
Sony has yet to confirm if this is a PS4 or PS5 title (or both)
And, of course, release dates can always change
While we must take this with a grain of salt, the ultimate question here is how an October release date could play into the PS5's release date.
Could The Last of Us: Part II Be a Launch Title For PS5?
With the PS5 on the horizon, it would make sense for Sony to switch their first-party studios over to next generation titles. It would also explain the lackluster E3 2018 showing and the fact that Sony has decided to skip E3 2019.
Daniel Ahmad, a Niko Partners analyst who moderates the ResetEra message boards, claims that Sony is looking to make current projects cross-generation compatible or exclusively release them on the PS5.
Here's what he had to say:
"Sony also has a couple of unannounced games (already existing IP) with PS4 in mind, but I'm conscious that there have been discussions around making them cross gen/next gen titles."
We've predicted in the past that Sony's lack of commitment on the release date for titles like The Last of Us: Part II, Death Stranding, and Ghosts of Tsushima could point to them being PS5 titles, and this news solidifies that prediction.
It makes the most sense for Sony to make the titles available on both the PS4 and the PS5, as gamers kind of expect them to be on the PS4 and pushback would be significant if they moved them all to a new console.
The October release date also would make sense for a PS4 version of The Last of Us: Part II, but all evidence points to the PS5 coming out in holiday of 2020, so it could also be a launch title for the next generation system.
Having the game available on both systems would also be a great opportunity for Sony to show off the leap in hardware. Imagine seeing the game running side-by-side on PS4 and PS5. Of course, these are just rumors for now, but what do you think? Do you want to see games like The Last of Us: Part II as PS5/PS4 titles? Let us know in the comments!
Article by – Bradley Ramsey
Posted: 3/12/19
Recent Articles: