It has been a crazy week these last 7 days. With the release of the PS5 and a slew of new games, I can't remember a time where I have been busier. That is why it has taken so long for my Miles Morales review. I am playing through a handful of titles right now and it's not easy to juggle with so many at once. Anyway, let's move onto the review, shall we? 
I just finished my first playthrough of Marvel's Spider-Man: Miles Morales and I have to say, regardless of the short amount of time it actually takes to complete everything, this is top notch for me. Not even going to beat around the bush here. This game is an easy 9.5 out 10. EASY!!!
You don't have to be a fan of Spider-Man to know when there is a good game in front you, but being a fan of the friendly neighborhood spider, that just makes the game that much sweeter! Not to worry, no extra points here simply because of the game title.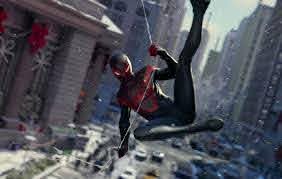 The game is as fluid if not more so than its predecessor Marvel's Spider-Man from 2018. There is something to be said about an open world game that really feels open. Swinging around in the city of New York can be distracting just by how fun it is. One minute you're web slinging around to your next objective and the next thing you know, you're dropping in on a crime in progress and wipe the floor with some bad guys. Just another typical day in the life of Miles Morales. 
This game really hits home graphically. My opinion is that graphics are important. They aren't everything, but in combination with a story, mechanics, frame rates, etc., it is an equal part of the equation. Insomniac did a stellar job with Miles Morales' look. Playing the game in performance to keep faster frames running is great. It looks great and runs as smooth as you would imagine on the PS5. Playing in fidelity mode however, that's where the game really hits it's sweet spot. Fidelity mode gives the game better lighting and detail that you really need to take the time to experience. I would recommend playing through the first time if fidelity mode and then run a new game+ on performance. Best of both worlds, but of course, play however you want, just enjoy playing. 
The story is really well written. I always love a good story and Marvel's Spider-Man: Miles Morales is no exception. I often find that games have a good storyline and they more often than not, ruin what could have been a great ending. Either by pulling too much of a cliffhanger (like Call of Duty Ghosts… What the hell happened? We may never know.) or they just botch the end and it doesn't really make much sense. With Miles Morales, it is such a good ending. I won't spoil it, but I will say this, the ending of this story is something more games need to aspire to do. A masterpiece in the end. 
Aside from playing the general storyline (although everything you do actually does become a part of the story because you practically play how you see fit) there are a lot of side missions to complete. Stopping crimes, training sessions, searching for loot and other side missions, you can really fill in your time playing all of the extras. It's also a great game for trophy collectors that would like a little less challenge when hunting for a platinum trophy. If you're after everything, you'll have to play a new game+ to collect it all. Totally worth a second playthrough as this game offers a good amount of replayability. 
If you didn't play the original Spider-Man, I would highly recommend grabbing the ultimate edition with the remastered version Spider-Man, so you can experience both games as they do move along in sequence together and it's just a little more than the Miles Morales standalone title. Either way, it's worth buying and playing. Easily and I say it again, this game easily gets a 9.5 out of 10. So good…
Have you played through the game yet? What are your thoughts on it? Share your comments with us to discuss, but please, no spoilers or add spoilers alerts. Thanks for reading and as always, I'll see you online!