To kick this off, I just have to ask… Can you believe the initial release of PS5 is just 9 days away? This is going to be an amazing day for fans that pre-ordered a PS5 and possibly even more amazing for those that manage to snag one in store if they weren't able to get a pre-order in. Best of luck to everyone involved! 
Speaking of the highly anticipated PS5 console, PlayStation 5 preorders managed to surpass PS4 pre-orders in the United States within 12 hours versus the first 12 weeks the PlayStation 4 was up for pre-order.
During an interview with Reuters, PlayStation CEO Jim Ryan said that not everybody that wants to buy a PS5 on launch day will be able to get one, but he also says the company is working very hard to supply the demand. The PS5 is easily going to break records in regards to sales and will be a super hot product during the holiday season. 
Moving on, the first game drop for PS Plus subscribers monthly for PS5 owners has been revealed. The game Bugsnax will be available for free on November 12th, the day of the console's release. This is a PS5 exclusive and while not everyone seems to be satisfied with the drop, I personally think it's a decent start. PS4 owners that subscribe to the Plus service will get their hands on Middle-earth: Shadow of War and Hollow Knight: Voidheart. Those games will also be available for PS5 owners, respectively. 
In other game news, Days Gone got a hefty update recently that will prepare the game for backwards compatibility on PS5. Owners of the PS5 console will also be able to play the game in up to 60 FPS and in dynamic 4k. Days Gone released with mixed reviews from critics and consumers alike.
Friday the 13th the game got some big news. The dedicated servers for FF13 the game are shutting down. The game will be receiving its last update later this month that will include a host of fixes that will include the dedicated server shutoff. Owners of the game will be able to continue playing private matches as well as peer to peer, but the days of playing randoms will come to an end. It was a good run. Seriously, there was a lot of running…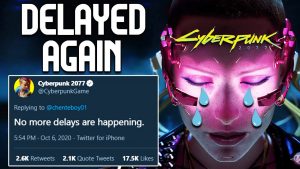 Cyberpunk 2077 has been delayed into December. While it was merely delayed for a month to ensure they could produce enough physical copies, some have speculated that the title is actually being held back because of next consoles. With the delay, some of the developers at CD Projekt red have been receiving death threats over the pushback and lets be honest here, not cool. Anyone making threats (whether they mean it or not) to developers over a game is ridiculous and unacceptable at best. 
Upcoming game Resident Evil Village is getting the next gen treatment on PS5. The game will support Ray Tracing in 4K, near instant load times, haptic feedback, adaptive trigger support and Tempest 3d audio support. Put all of that together and you've yourself what is likely to be quite an immersive and hopefully scary experience. Resident Evil fans should be hyped for the next installment in the long running series. 
To wrap things up this week, The third party PS5 faceplate manufacturer PlateStation, which is a start up company that began creating customized faceplates for PS5 consoles, changed the companies to Customize My Plates, only to shutdown the company and refund all of its orders to customers. This move comes after PlayStations legal team initially asked the company to change its name due to copyright infringement and then informed the company that regardless of the name change, Sony believes their intellectual property extends to the faceplates and will take them to court if they sell third party plates in any country. That is some pretty serious talk and it would be foolish for a small start up to try and challenge a company as large as Sony. I expect Sony will manufacture their plates and we will likely see another company make an attempt at selling third party plates again, but I think when it comes to my PS5, I'll purchase a plate from Sony over any third party company. I wonder if there is anything in the fine print of the warranty about using a third party plate?
Anyway, thank you so much for reading this week's issue of PS Weekly. We have one more issue to drop before the PS5 finally releases next week, so be sure to check back next Tuesday! Until then, I will see you Online!