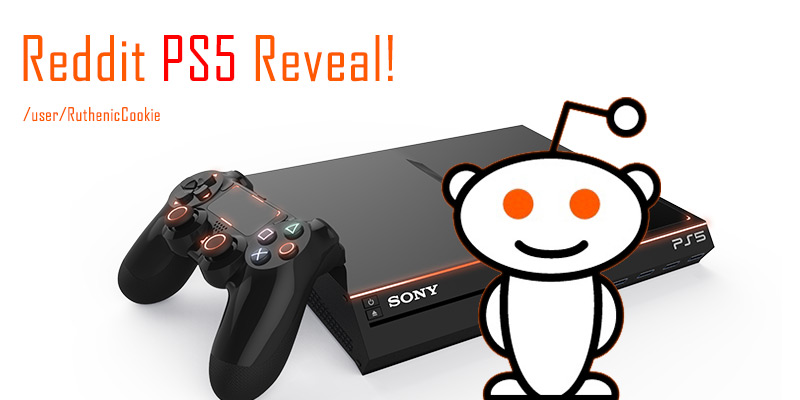 Another day, another round of PS5 news! As we march closer to the inevitable announcement, you can expect us at PS5 Gamers to be on the frontlines seeking out the latest tidbits of information. Thanks for a Reddit user by the name of RuthenicCookie, we may have our first solid pieces of information about the PS5.
RuthenicCookie first stepped into the spotlight when they accurately predicted that Sony would not be attending E3 2019 prior to the official announcement. They made this prediction on Wednesday, November 14th and the announcement wasn't confirmed until the following day, 11/15. With this accurate prediction under their belt, they now have our attention. Let's see what they had to say about the PS5!
A Gold Mine of Potential PS5 Information
It's always smart to take these kinds of things with a pinch of salt, but when I discovered that RuthenicCookie predicted Sony's E3 2019 announcement, it seemed like they could be on to something.
Right off the bat, claims are made that confirm what we reported on earlier this year: PS5 dev kits are out in the wild.
The following screenshots were taken from this Reddit thread on November 19th, 2018. They are here just in case something were to mysteriously happen to this leaked info.
There's a lot to break down here, so let's dive right in:
#1 – The PS5 is coming in March or November 2020
First up we have the release date. According to RuthenicCookie, this is going to be either March or November of 2020. The later release date would be a full seven years after the PS4's launch if you're keeping track.

March would also make sense, given that Nintendo saw a lot of success with the Switch launch around this time of the year. It would also be just in time for tax return season, where people often have extra spending money.
#2 – Sony Will Announce the PS5 in Mid-2019



As far as announcements go, the predictions state that we should expect a small reveal in the middle of 2019, with a full reveal at PSX later that year. If you'll recall, we reported on Sony cancelling this year's PlayStation Experience, so it would be nice to see the event return.
#3 – The PS5 is a "Monster," Will Retail For $500
While the Redditor declined to say much about the PS5's specs, they did offer a few interesting details. The system will allegedly use Ryzen 8 core processors and will support 4K gaming at 60 fps, which is the goal of PC gamers using today's technology.
They also dropped a $500 price point, which makes a lot of sense and is line with our PS5 price predictions.
#4 – PlayStation VR Returns, Better Than Ever
Last, but not least, it sounds like Sony may be investing even further into virtual reality. The PSVR headset has been showcasing strong sales numbers, and an upgraded version with the PS5 would also be in line with our predictions.
According to RuthenicCookie, we should expect a new version with upgraded Move controllers and a breakout box built into the system, as opposed to the external one we currently have. They also made mention of glove controllers, something we reported on when the patent was discovered.
They also made mention of a camera in the DualShock 5, which is news to us, but it could open up some interesting gameplay options.
What Do You Think?
Given the accurate E3 2019 prediction, do you think these rumors could be true? If so, are you happy with the price point and release date? Let us know in the comments!
Article by – Bradley Ramsey
Posted: 11/20/18