Those of us on PlayStation consoles got a chance to play the Call Of Duty Vanguard alpha over the weekend and while it didn't offer much selection (it was only an alpha after all), it did give us a birds eye view into what we could expect in November.
There are mixed feelings from a lot of players out there and I am no exception. I am not concerned with the graphics of the game. A lot of polishing and some bug fixes isn't going to change a lot of minds on this one. I'm talking about the advanced weapons in a WWII game. Red dots and holographic sites that are way too advanced for this title. 
Part of me doesn't care. I don't really play cod for its "realism" as much as I play it for what's not real. It is a video game after all. But what about the players that want to play something true to it's time? Vanguard is a made up story and we know that, but some folks want the game to be accurate in regards to weaponry. I've listened to their arguments and they have some valid points to make based upon their own personal feelings. While I can see where they're coming from, it won't change a thing.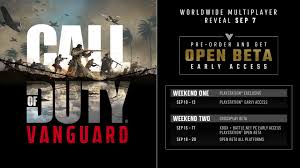 It is to my understanding that the weapons are advanced in order for them to be usable in Warzone, although I can't really see that being the case. If the weapons needed to be advanced for Warzone, they could add the attachments into the game separately from Vanguard. I'm no programmer, but I feel like that would be the solution, wouldn't it? They could integrate both titles without sacrificing one for the other, right? Let me know your thoughts on that, because I am curious about what you think. Maybe I'm giving too much credit to developers? I dunno. 
Anyway, advanced weaponry aside, we played Champion Hill and it was alright. 2v2 and 3v3 isn't really my thing. I like larger player counts, but my bias didn't affect my judgement. I thought they had some cool ideas for what I played. Picking up cash on the ground and hitting the right D-pad button to upgrade my guns was interesting. No building my own loadouts. They gave me what they wanted and I had to work with it. Between rounds we could purchase armor plates, different weapons and support items, etc. It didn't feel like a call of duty lobby to say the least and that's not necessarily a bad thing. 
Playing the alpha doesn't tell me enough about the game on whether or not I should get excited for it. I have a habit of getting excited for CoD and being disappointed after release. Hopefully Vanguard turns out to be something really special, because the Cold War (IMO) was lackluster and missed the mark by a long shot. 
Are you excited for Call of Duty Vanguard? Let me know in the comments and we can discuss. As always, I'll see you online!