This is a tough review for me right now. I had the highest of hopes that Battlefield 2042 would be an amazing frigging game and if I'm being completely honest about it, I'd have to say this game is one the most lackluster titles available right now. 
Bugs aside, where is the content? It's like the developers cut everything out that you were expecting and said here, have a couple game modes to play online and be happy about it. Granted, the publishers often have a lot to do with decisions in how a game shapes up, so I can't put it all on the developers. I'm looking at you right now EA!
As I was saying, the game is lacking a lot of content. No solo campaign, only a couple of the modes to pick from (that God for conquest)! There are plenty of weapons and soldier customization options, but nothing much else. Southern goes at least 2 points for lacking content.
Graphics are OK. I did expect a lot more on the graphic front of things with BF 2042, but we can't have everything we want. I guess I feel like the maps themselves are missing detail that I have come to expect in this day and age. Graphics don't make an entire game, but they aren't something to overlook. Graphics are definitely an important part of immersion. 
Audio is excellent! They definitely got the audio right on this one. Enemy footsteps, weaponry firing off, even voice chat audio is good in this game. I have been using the PS5 wireless headset from Sony to play through, but I believe the audio is well tuned for most outputs. It sounded great on my TV, but obviously not as immersive as a headset. Let me know what you're using for audio and settings and if you find it satisfactory!
As mentioned above, no campaign and not much to choose from in regards to multi-player game modes. There are plenty of bugs to contend with which is normal, but these bugs are littered in there a little more than most games. I really do hold EA responsible for the faults in this game. They control the budget and make a lot of decisions and there is no doubt in my mind they messed this game all up.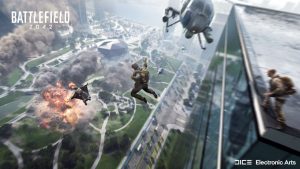 What does the future of Battlefield 2042 hold? Well, hopefully more game modes, more maps and better visuals. The bugs definitely need to be squashed, but I'd take with a grain if there was more content.
All in all I'm giving Battlefield 2042 a 5 out of 10. Without the content, the game feels empty and reduced from its former glory days. Of course most long running franchises have gone downhill over the years and none of the publishers seem to care. Maybe someday they'll open their eyes and realize they're making mistakes and not good games. That's just my take on it, so feel free to let me know how you're feeling about BF 2042. Am I being too harsh? Am I overlooking something? Let's discuss in the comments below!