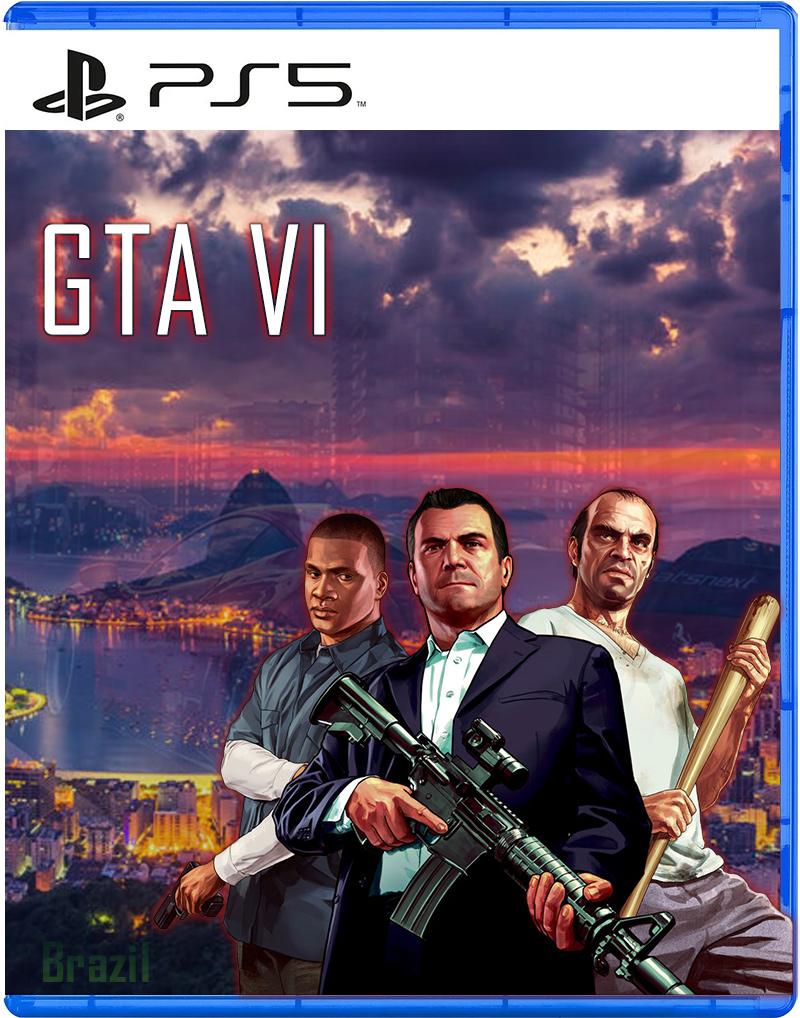 Today we're going to look at some new rumors that suggest the next Grand Theft Auto game is coming to the PlayStation 5. We'll also look at other rumors that are helping us build an idea of how Rockstar plans to top themselves with the next release in their ongoing series.
Massive Leak Exposes New GTA VI Details!
In September of 2022, a hacker managed to infiltrate Rockstar's servers and release a treasure trove of footage onto the internet. In the days since, Take-Two and Rockstar have been desperately issuing takedowns and trying to scrub the leaks from the internet. Several rumors have been confirmed due to the leak, find out more in our full article!
Release Date on the PS5
Sony really had people going for a minute during the PS5 reveal event. They opened with footage of GTA V, which made everyone think an announcement was coming! Instead, we got confirmation that GTA online would be coming to PS5 as a free standalone game for PS5 users.
Geoff Keighly also tweeted, confirming the single player portion is also getting ported to the PS5 in the second half of 2021. I mean, that's fine, but how about the sequel we all know exists? The latest rumor claims that we won't see GTA VI until March of 2024! See below for more information on what we know.
GTA Playstation Release Dates

| | | |
| --- | --- | --- |
| PS1 | GTA 1 | December 1997 |
| PS1 | GTA 2 | October 1999 |
| PS2 | GTA 3 | October 22, 2001 |
| PS2 | Grand Theft Auto: Vice City | October 29, 2002 |
| PS2 | Grand Theft Auto: San Andreas | October 26, 2004 |
| PS3 | Grand Theft Auto IV | April 29, 2008 |
| PS3 / PS4 | GTA 5 | September 17, 2013 |
| PS5 | GTA 6 | 2022 |
New Bloomberg Report Reveals Key GTA VI Details
A new report from Bloomberg, released in July of 2022, presents details on both the protagonist and world of GTA VI, according to those close to the development of the title. We break down the claims in our full article, but the highlights include a playable female protagonist, a more self-aware story informed by current events, and more!
Rockstar (Finally) Confirms That GTA VI is in Development!
This is the kind of news that you know is coming, but it's always nice to hear it from the source. After a lot of rumors, speculation, and repeated releases of older GTA titles, Rockstar finally confirmed in a post on their website that Grand Theft Auto VI is in active development.
The post is fairly long and discusses the next-gen verions of GTA V, as well as improvements to GTA Online, but the real nugget comes at the end:
"With the unprecedented longevity of GTAV, we know many of you have been asking us about a new entry in the Grand Theft Auto series. With every new project we embark on, our goal is always to significantly move beyond what we have previously delivered — and we are pleased to confirm that active development for the next entry in the Grand Theft Auto series is well underway. We look forward to sharing more as soon as we are ready, so please stay tuned to the Rockstar Newswire for official details."
There it is! Feels like we've been waiting a thousand years for this news. Of course, a trailer, or some concept art would have been nice, but hearing that things are "well underway" is encouraging!
Still, this is Rockstar we're talking about, so it will be ready when it's ready. I imagine we'll be hearing about the PS5 Pro or the PS6 before GTA VI comes out, but I would love to be proven wrong. In the meantime, check out the prior leaks and rumors below to get your imagination going, and stay tuned to this page for any new updates on the now confirmed Grand Theft Auto VI!
When Grand Theft Auto V arrives on PlayStation 5 in the second half of 2021, a standalone GTAO will also be released for free for PlayStation 5 users. pic.twitter.com/KxRqir1pvc

— Geoff Keighley (@geoffkeighley) August 3, 2020
Classic GTA Trilogy Remasters on PS5
A rumor regarding classic Grand Theft Auto titles like GTA III, Vice City, and San Andreas led to the full launch of these titles on current consoles. As awesome as the idea is, however, they didn't quite stick the landing. Rockstar outsourced the development and even though patches have come out for the titles, they're still not what people would have wanted from such a project.
New Video Surfaces, With Bold Claims About GTA VI Setting and Release date
A new story is making the rounds in July of 2021, with Tom Henderson releasing a video that has sparked new discussion. Henderson is known for leaking details on Call of Duty and Battlefield 2042, so he has some level of credibility in regards to gaming rumors.
In his latest GTA VI video (embedded below), he claims that GTA VI won't be out until 2025! Apparently some statements from a recent Take-Two stakeholder event also vaguely hinted at this release window. Henderson goes on to claim that GTA 6 will take us to a modern day version of Vice City, despite other rumors saying it would be set in the 1980s.
The reasoning here is that Rockstar wants to use the modern setting to give the team plenty of flexiblity in GTA Online, which given how much money that makes, is a fair point. Something new in this video also discusses a dynamic map for the game, which has been pioneered by Fortnite and their penchant for introducing or destroying parts of the map permanently during major events.
We also hear again about the potential for multiple playable characters, which was introduced in GTA 5. Finally, the rumors also say that Rockstar is taking their time due to reports of crunch, which I hope is true, because no game is worth working people to the bone for months on end.
As always, none of this is confirmed, but until we have some solid news, these rumors will have to hold us over. Read on for more predictions and rumors around GTA 6, and stay tuned to this page for any and all updates.
New August 2020 Rumor Points to Vice City Once Again
With the PS5 coming out later in 2020, the talk about GTA VI is reaching a fever-pitch. People are hungry for anything and everything they can get their hands on. As it turns out, we've finally seen some new information, even if it's only more rumors.
It all ties back to the soundtrack, which is a big part of Grand Theft Auto. We all know that Rockstar picks some period-appropriate tunes for their games and places them into radio stations. As it turns out, a synthwave musician by the name of Pete Brian Rice, tweeted out something that suggests Rockstar was sourcing this kind of music for their next game.
While the tweet was later deleted, the internet is forever. Take a look at this screenshot:
Why is this important? Synthwave is a genre that was most popular during the 1980's, and what other Rockstar game took place in this time period? Oh yeah, GTA: Vice City. This actually lines up with some of the other rumors we've seen (see stories below), so I'm inclined to believe that this music leak is indeed further proof of the GTA VI map being set at least partially in Vice City.
Another Reddit post also made the rounds in recent memory. While also deleted, again, the internet is forever. This screenshot below outlines the information provided by the user markothemexicam, who has been right in the past about GTA online content: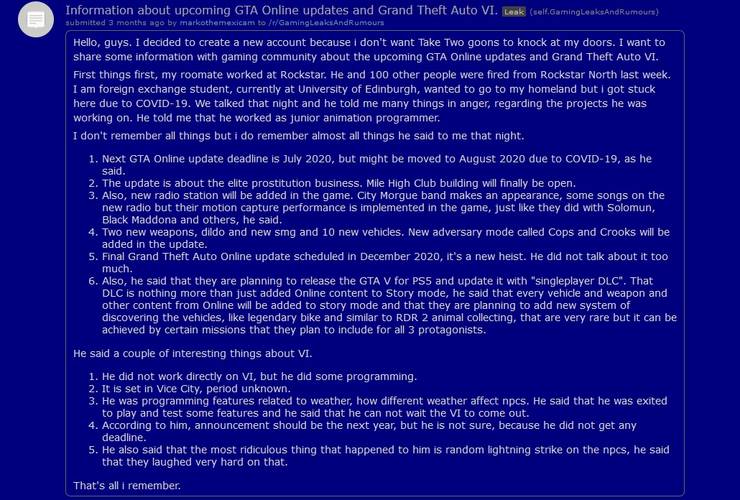 So, what are we looking at here? The highlights include that they spoke to a person who supposedly did some programming work for GTA VI. Specifically, they worked on the weather system, which will affect NPCs. The source also told him that we should see an announcement in 2021. This source also corroborated the Vice City map speculation as well.
Read on below for more leaks, rumors, and our predictions about GTA VI's story, map, and characters!
Reddit to The Rescue, but Please Pass The Salt
Most of the GTA VI leaks or rumors start on Reddit. In fact, the latest one comes to us from u/JackOLantern1982, who posted a massive list of details in July 2019.
Below is the full list of items included in the leak:
The next GTA title has been in development since 2012 (1 year before GTA 5 launched). Production didn't actually pick up properly until mid 2015. Even then it was on ice while the teams focused on RDR2.
It's another Rockstar Worldwide Production, not just one or two studios, but all.
Codename is PROJECT AMERICAS.
Set in both Vice City and a new fictional location based on Rio de Janeiro, with some linear missions taking place in Liberty City (not open world), think Ludendorff in GTAV. Also been recently hearing about Cuba but I ain't sure?
Game will balance realism and arcade. WON'T be as realistic as RDR2.
One playable protagonist this time. Male, not female, despite supposed leaks.
Set in 1970s-1980s.
You play as an up and coming drug lord-wannabe named "Ricardo". Another key character called "Kacey" is a part of the narrative. You start off as a grunt doing runs as a cocaine smuggler from Vice City to the new large South American area (and visa versa?) before making connections with big time drug lords and making your way up. Multiple cities. There will also be a GIANT prison which will play a part in the game.
Will feature a "CHAPTER" system similar to a Tarantino flick or RDR2.
Weather is a heavy focus. Hurricanes, floods, etc.
Buildings change over the eras, vehicles too. This causes headaches apparently but they managed to nail a pipeline and get it working. So older, rare classic cars get more expensive as time progresses etc. Full economy. Next level.
HEAVILY inspired by Netflix's Narcos.
They want to have an incredible 70s/80s soundtrack, but jury is still out on that one.
A younger Martin Madrazo will make an appearance as will his father who is a big drug lord at the time. You do some missions for the Madrazo family involving hits on other gangs.
Drug empire building is a mechanic similar to Vice City Stories but bigger. MUCH bigger. Think the GTAOnline system and dial it up to 10. There you have it.
You can only have weapons on your person. No arsenal in your back pocket. Think RDR2 and Max Payne 3.
Your personal vehicle (similar to GTA5 but can now change it) will be like your horse saddle in RDR2. All your equipment is stored in the trunk. Similar to LA Noire. You also store your body armour in the car. If you wear it, it appears, no longer just an invisible thing.
There will be tons of subtitle reading. Think Max Payne 3 amounts. Because the characters speak the language they're native to. Very immersive. Like watching an episode of Narcos.
Whenever you're in South America, don't expect to hear much English. Vice City however is a mix of everything. Mostly English though.
Last bit of narrative info, it will discuss topics such as HIV and the immigration crisis of the time. A fictional version of Fidel Castro etc.
Next Gen only. Not PS4/XB1.
Game is now their primary focus, alongside another title (which I believe to be Bully 2).
Game is still in Pre-Alpha so names, locations, details could and probably will change.
No ETA on a release date.
The person who posted the leak claims to know two insiders who worked for Kotaku and PC Gamer. They also said they know someone who works at Rockstar. That person neither confirmed or denied the details.
Without any other sources to go on, this is one of those situations where we need to take everything with, you guessed it, a big old pinch of salt. Even so, some of these things mirror other rumors we've seen, so it's possible at least some of it is true. Check out the other rumors below, and be sure to share your own theories in our comments section! For now, let's continue.
Our next leak comes from a post on Pastebin that has since been removed. Online site Dexerto posted coverage of the details. Pastebin has played host to plenty of other leaks, some of which were later confirmed.
In this case, the post was made with a guest account and an unlimited time stamp, meaning the person who wrote it couldn't remove it. A Reddit user claimed that the post may have been taken down by Rockstar themselves.
Given that this leak has no real proof, we will take the information with a grain of salt. That being said, we've updated the relevant elements of this post to reflect the predictions made by the post. Read on to find out everything we know about GTA VI!
Since it released, Grand Theft Auto V has sold over 52 million copies across all of the platforms it was released on. In terms of sales, that's ridiculous. Given that number, there's no doubt in anyone's mind that Rockstar Games is going to release Grand Theft Auto VI.
Rumors have been spreading since GTA V was first released and they continue to persist even after the game came to PS4 and Xbox One. Rockstar is still adding new content to the fifth game in the series, but people are clamoring for the next game.
Grand Theft Auto VI is coming to PS5!
Originally people were hoping that GTA VI would show up in a few years, but several rumors have suggested that Rockstar doesn't plan on doing anything with the series until 2020. The latest leak from the now deleted Pastebin post claims that GTA VI can't release on PS4/Xbox One because of "memory restrictions." This suggests it won't ever come to current consoles, only next generation machines.
The leak also claims that the corporate executives are working closely with Microsoft and Sony to leverage cloud gaming for some of their ambitious online plans. Ultimately, they are waiting to see how the new consoles sell before they decide on a release date, if the rumors are true.
Leslie Benzies, the President of Rockstar North (Developers of GTA), left the company and doesn't plan on returning. Leslie was integral in the development of the Grand Theft Auto games, so this departure could easily set back the timetables. Rockstar hasn't confirmed any rumors, but people are saying that now we won't see a new GTA until 2020 which would put it right in line with the PS5 release we've predicted. Can you say launch title?
On top of Leslie's departure, a game like GTA takes a long time develop. Rockstar has never released a broken game, and that's because they always take a "when it's done" approach. We also need to consider the fact that Red Dead Redemption 2 is coming out in holiday of 2018, so this has likely been their primary focus for some time.
With Red Dead released, it would make sense for Rockstar to ramp up work on the next Grand Theft Auto title, but depending on how far along they may be internally, many are speculating we won't see the new entry until 2020 at the earliest, which also happens to be when we expect to see the PS5.
Even if the new game releases on the current generation of consoles, we know from experience that Rockstar is capable of porting their games to the next generation, which is something we saw from GTA V. Either way you slice it, Rockstar will eventually do another game in their beloved series, it's just a matter of when. From what we can tell, it will line up with the release of the PS5.
Rockstar has been known to expand on their worlds and Grand Theft Auto V was their biggest world yet. How are they going to top this one, you ask?
GTA 6 Map – The World of Grand Theft Auto Six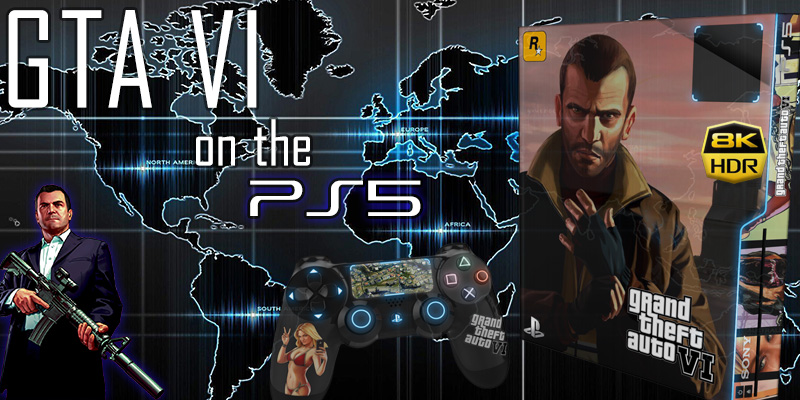 The latest leak from the deleted PasteBin post claimed that GTA VI will have "multiple big cities which players can travel across." Specifically, the leak claimed that you would be able to travel between Liberty City and Vice City as part of the story, with a third region between the two cities you travel through.
As far as story goes, the leak described a journey where you would start small and eventually become involved with a famous gang in Vice City. The ultimate goal of the story is to become a drug lord. This sounds pretty standard as far as story arcs go, but it could easily fit into a GTA game.
Leslie Benzies in 2012 said in an interview with Adam Rosenberg quote:
"at some point we would like to have one big world containing all our cities and let the player fly between them and revisit their favorite areas, and in that context reimagining Vice City would be very interesting."
Piggybacking off this quote, The Know also received some very interesting information from an anonymous source about the plans for GTA VI. While these are purely rumors, they have said that the source was reputable enough to report on the information.
For starters, the new Grand Theft Auto is code named "Project Americas" and is rumored to be based in Miami, or a fictional version of it. This points towards a return to Vice City, but the actual city of Miami does exist in the GTA universe as well, so it could also take place there.
The name "Project Americas," refers to a rumored mechanic where players will be able to fly between the United States and South America to perform missions. This would make a lot of sense, given the massive drug trade and smuggling that happened between Colombia and the United States during the 1980s and the reign of Pablo Escobar.
Check out the full episode of The Know's report on GTA VI below:
A Female Lead Character? Why Not…
After the release of Grand Theft Auto V, the co-writer of the game, Dan Houser, did an interview with The Guardian about the future of the series. During this interview, they asked him about future games featuring a female lead character. His response was this:
"In the future, could we do a game with a lead female character? Of course, we just haven't found the right game for it yet, but it's one of the things we always think about." </em
That female lead could be played by Eva Mendes according to new reports. This rumor comes from another that suggests Ryan Gosling is going to be the lead male protagonist in the new game.
While it's not clear how Eva's name became attached to the rumors. Speculation suggests that it could be Ryan's relationship with her, or her attachment to the "Fast and Furious" series. I think it's about time to switch things up and do a female perspective, and I'm not the only one.
Current Story Rumors
Grand Theft Auto V had a unique story that included three interwoven characters. Thus far rumors on GTA VI's story have been slim, but one rumor has come to light that suggests Rockstar is planning on including natural disasters as part of the next game.
Things like Earthquakes, Tornadoes, or perhaps even wildfires could add a lot of dynamic to the game. If Ryan Gosling's character is a cop and Eva Mendes' is a criminal, that could also add another layer to the gameplay.
It's hard to predict a story as large as the kind that appears in GTA, but these small elements we've heard about thus far are suggesting some very interesting directions for the new game.
5 Things We Want to See From Grand Theft Auto VI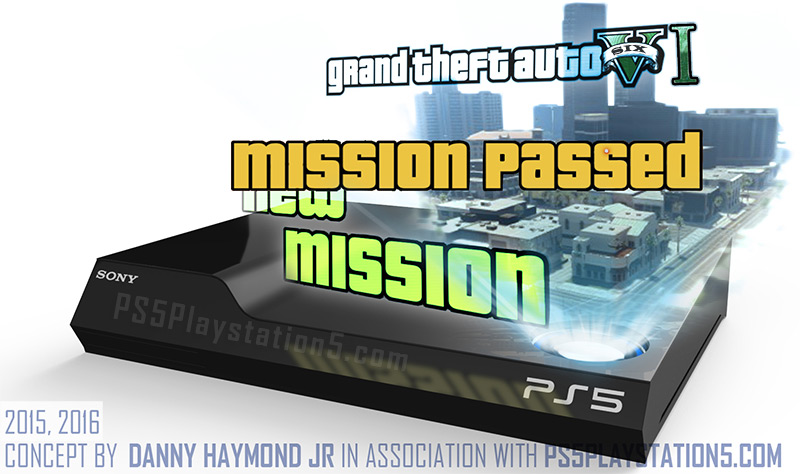 While the next Grand Theft Auto is still a ways out, there's no stopping speculation, and we have some things we would like to see from the next entry in Rockstar's flagship series. It's true that the game will probably be incredible regardless, but we wouldn't mind if they borrowed some of these ideas:
1. A Brand New Location
While there's been plenty of hype and speculation about returning to Vice City, let's be honest here: that hype is fueled by nostalgia. Would I love to see a next-gen Vice City? Yes, of course, but part of the excitement in GTA is exploring brand new maps that dwarf the size of other open-world games.
Instead of revisiting a previous location, I would like to see Rockstar take us somewhere new. The possibility of a South American setting would be very interesting. With the success of the Just Cause series, it could be an option.
Or, we could make the leap to Europe for once. You may think that sounds crazy, but let's not forget that in the early days of the series, Rockstar once took GTA to London.
I would even settle for a new city in America. Something like Chicago, or Boston would be a fresh new take for the series.
2. A New Time Period
For the most part, Grand Theft Auto has been a game set in the modern era. While Vice City took us to the 80's, I would like to see the series go back even further. For example, a setting in Chicago during the peak of the mafia would be an amazing step forward for the series.
We could rub shoulders with the likes of Al Capone and other great gangsters. Imagine if Rockstar offered their take on a classic mafia storyline. We've seen it done in the Mafia series, but this time period could really be elevated by the talented people working on GTA VI.
Or hey, maybe we could go into the future. It doesn't have to be full science fiction, but a Grand Theft Auto that predicts the problems of the near future could be a great way for the series to flex its political satire and social commentary it's known for.
3. Support for VR
I imagine that if Grand Theft Auto VI supported VR, that most people would never leave their homes. While this doesn't seem like a very high possibility on current VR tech, the PS5 will most likely introduce the next generation of PlayStation VR, which will most likely have the horsepower to support a game like GTA.
We already have Skyrim in VR, and it's just as awesome as it sounds. With a similarly large title like GTA VI, virtual reality could have the mainstream support it needs to truly flourish.
4. More Interaction With The World
Grand Theft Auto V has no shortage of things to do. There are numerous activities that range from small things like tennis, to larger ventures and side missions. We've never been wishing for more content in a GTA game, but there's relatively little interaction with the world itself.
Yes, you can go into specific shops and houses, but I would like to see Rockstar expand on the interior environments and let us explore more of the world beyond the surface level. More shops and houses would be nice, but what about destructible environments?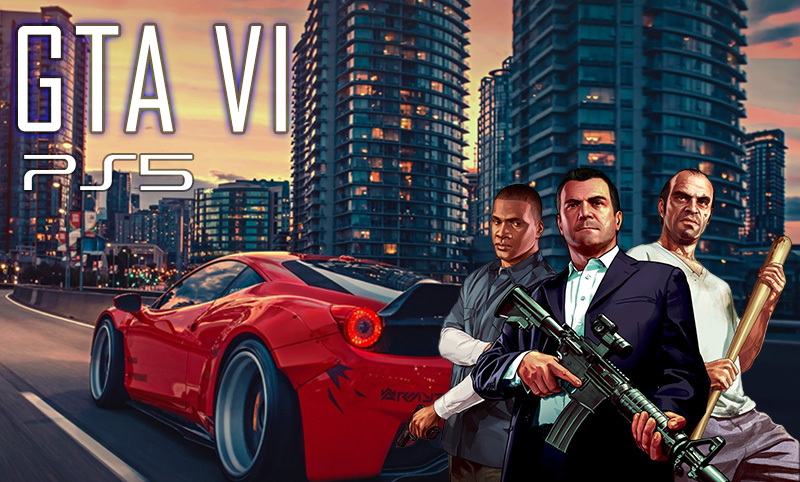 What if we could take down a skyscraper or level a neighborhood? It sounds pretty crazy, but there could be serious consequences for the story if you start leveling entire blocks. At the very least, it would improve the playground of destruction Rockstar has already established.
5. First-Person Options at Launch
When GTA V added the option to play in first-person, a lot of gamers found their new way to play the game. Having this option really opens up the experience to more gamers, so I'm hoping it becomes a standard feature when GTA VI launches.
The option for first-person would also lend itself nicely to VR, so they could kill two birds with one stone in this regard.
Your Turn to Predict!
Now it's time to give you a shot. Tell us what you think about these rumors and possibilities for GTA VI on the PS5! If you come up with some wild rumors, who knows, maybe we'll feature your comment in a future article update?
Article by – Bradley Ramsey